Classroom Rentals
Need a place to host a meeting, seminar or other group training event? Our state-of-the-art computer labs are available to rent by the day or week for whatever your needs may be.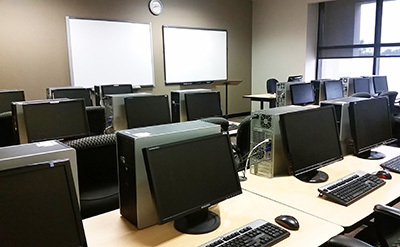 Our classrooms vary in size – from a cozy 10-person accommodation to a comfortable and spacious 20-person workspace, there's room for all! Each room is equipped with 6 to 20 computer stations, a ceiling mounted projector connected to an instructor machine, an interactive SmartBoard and a generous white board. High-speed internet connectivity and free wireless service is included for all room reservations.
Complimentary breakroom access stocked with coffee, water and vending services is included at each location and catered lunches are available for your crew upon request for a minimal fee.
Inquire at the LANTEC location of your preference for pricing and availability.